Good morning fellow crafters!! And welcome to the Open-Minded Crafting Fun Challenge Blog!!
It is time for a new challenge! Thank you to everyone who joined us and took on the last challenge. We can't tell you how much we appreciate you and all of your wonderful creations!! We will announce the winners and the DT Favorites from
Challenge #32: Winter Vacation Getaway
, on
Saturday, April 4th, 2015
. Be sure to come back and celebrate the winners with us.
Challenge #33
is all about
Food! Food! Food!
!! We don't care what type of food, meals, snacks, ice cream... you name it! We want to see it! Now what are you going to come up with? We can't wait to see the designs you guys come up with!
Please click on the Rules Tab at the Top to read up on the rules!
Deadline
: The deadline for this challenge will be midnight on
Friday, April 10th, 2015.
Please make sure to link up before then.
Prize and DT Favorite Information
: We will randomly draw the winner for each of the sponsors. These winners will be posted on
Saturday, April 18th, 2015
. We will also post the DT Favorites at the same time.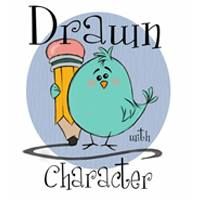 Drawn With Character
Prize: 3 Images
Krista's first love has always been drawing. Ever since her father gave her the book "The Art of Disney," back when she was a kid. She was lucky enough to live her dream and work as an Animator for over 15 years. 10 years of which was at Walt Disney Feature Animation Florida, up until the studio closed in 2004. Since that time she and her husband settled in the Midwest with their two beautifully spirited children. Krista began a new career in illustration and design. It was this new path that led her to cookie decorating. This was the perfect outlet, combining her love of baking and her true "need" to create art. This is how "Cookies With Character" was born. After working in the "cookie world" for some time, she discovered the need for images that can be easily translated to cakes and cookies. Some, by using an overhead projector called a KopyKake. This then brought the design and cookie world of hers into one shop called "Drawn with Character."

Ana Isabel using We Go Together Like Coffee and Dounuts

Julie using We Go Together Like Peanut Butter and Jelly

Kathy using Cute Valentine Kids

Rebecca using Coffee Lovers Set
Come back for our midway post to see Berni using We Go Together Like Coffee and Donuts, Kel using I'm Nuts For You and Pam using We Go Together Like Coffee and Donuts

Imagine That! ...digis by Kris
Prize: 3 Image Sets
Imagine That! ...digis by Kris is where her pencil drawings meet digital, printable images so we can all create with them! These adorable images come to you from a mother and daughter team, Kris and her lovely daughter Carly. You will have fun looking around the shop at their wonderful images! We are so happy to have them join us this year as a sponsor. Thank you so much Kris and Carly!!

Hanne using Parfait Delights

Robin using Ladybugs

Shirley-Anne using Parfait Delights
Come back for our midway post to see Kathryn using Parfait Delights, Myndi using Ladybugs and Susan using .

Robyn's Fetish Digital Stamps and More
Prize: 3 Images
Robyn's Fetish Digital Stamps And More is proud to sponsor this challenge. Robyn's Fetish Digital Stamps And More, a division of I Did It Creations, was created and is owned by Robyn Weinrib. Robyn offers a wonderful variety of digital stamps and digital papers, designed to meet the needs of all digital paper crafting addicts for every occasion.

Carol using Celebration Cake

Jacqui using Candy Cane and the Gingerbread Boy

Sammibug using Granny's Cookies
Come back for our midway post to see AngelicBadGirl using ., Crafting Vicky using Hot Coco, Lynda using My Little Cook and Lynne using Granny's Cookies

Zlatoena's Designs
Prize: 2 Images
Zlatina is from Bulgaria and loves to make cards, loves illustrating and art! She has the most adorable bunny with these big floppy ears! We fell in love with him! All of her digital images are amazing! You need to hop over and see for yourself! And be sure to give Zlatina a big warm welcome to the crafting community!!

Joanna using Bunny Birthday Cupcake

Milnie using Bunny Birthday Cupcake
Come back for our midway post to see Cass using Bunny Easter Egg, Erin using Bunny Easter Egg and Kim using Bunny Birthday Cupcake