Good morning fellow crafters!! And welcome to the Open-Minded Crafting Fun Challenge Blog!!
You all continue to amaze us with each and every challenge!! Thank you to everyone who joined us and took on the challenge. We will announce the winners and the DT Favorites from
Challenge #19: Roll Out The Red
, on
Saturday, October 4th, 2014
. Be sure to come back and celebrate the winners with us.
Challenge #20
is all about
Fall / Autumn
Yes, it is almost that time of the year in the Northern Hemisphere. Time for the hot to go away and cool air to move in. We can't wait to see what you come up with!!
Please click on the Rules Tab at the Top to read up on the rules!
Deadline
:
The deadline for this challenge will be midnight on
Friday, October 10th, 2014.
Please make sure to link up before then.
Prize and DT Favorite Information
:
We will randomly draw the winner for each of the sponsors. These winners will be posted on
Saturday, October 18th, 2014
. We will also post the DT Favorites at the same time.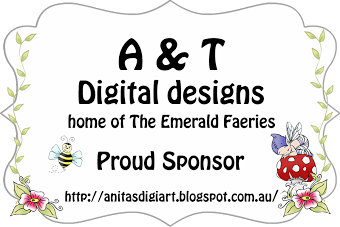 A & T Digital Designs
Prize: 2 Images
The artist that creates all that wonderful art at A & T Digital Designs is Linda Catchlove. Linda was born in Australia and grew up in both Australia and New Zealand. She spent much of her childhood drawing and knew at an early age that she wanted to be an artist of some sort. She is now a Botanic Artist and Illustrator using watercolours as her medium. Australian native plants, insects and of course her most adorable little faerie folk are her favourite subjects to paint. Most of her paintings have a combination of all three of these. So, Thank you A & T Digital Designs and Linda Catchlove!! We appreciate your sponsorship and we love being able to have such wonderful art to create our cards and other projects!!

Carol using Pip

Julie using Boo and Snookie

Melanie using Willie and Mia

Sammibug using Ashee
Come back for our midway post to see Susan using Boo and Snookie and Vicky using Jewel

Digital Delights
Prize: $5 Gift Certificate
Digital Delights by Louby Loo is your one stop shop for all your digital stamps, paper piecing and digital products which are instantly downloadable. We also have a wide range of digital papers and cut files for all your crafting projects. Our low prices reflect our belief that crafting should not only be fun but affordable too!! Other services include custom blog design and custom watermarks. Why wait for snail mail? Start creating with our instant downloads today.

Adele using Tiny The Turkey
Come back for our midway post to see Emily using August Cupcake

QKR Stampede
Prize: 5 Images
Do you have a sense of humor? Are you looking for a cute stamp? Then, we are the company for you! QKR Stampede is the somewhat cute somewhat quirky rubber and digital stamp company. We showcase the artwork of Ken Herrod, who had a unique, somewhat quirky style with lots of humor and character. You are sure to get a chuckle out of our stamps! We have been offering our unique stamps and supplies to the craft industry for over 15 years. At QKR Stampede our images are available as un-mounted, natural red rubber stamps OR as digital stamps! If QKR Stampede Stamps aren't exactly what you are looking for, don't miss out on the sister companies: Eureka Stamps, Biblical Impressions Rubber Stamps, or the newest addition; Alluring Impressions.

Kathy using Scarecrow
Come back for our midway post to see Maureen using Rip and Pam using Autumn Friends and Joanna using Riding

Sentimental Susan
Prize: 5 Images
Hi! I'm Susan and one of the artist and owners of Sentimental Susan. I'm a crafter who loves to create Greeting Cards, invitations, bookmarks and more! I love to color; I'm just a kid at heart. I also love to draw when I can. I am married to Kevin, who also draws and puts up digital images for the site. He is from Australia. This is definitely a family venture, everyone in the family has contributed except for my son. I'm sure he will get up something soon. My kids are much more talented than I am!! I have drawn since I could pick up a pencil. We are really happy to be sponsoring some challenges and we look forward to seeing all of the fantastic creations. There is nothing more exciting than seeing something you have drawn created into something spectacular!!

Hanne using Barn Owl

Jacqui using Tiger Cub
Come back for our midway post to see Cass using Owl Landing

Time For Tea Designs
Prize: 5 Images
Jo is a digistamp designer, doodler & all round crafter! You will find her amazing line of digital stamps at her Etsy shop where she will be adding to her collection each month.

Cindy using Fall Leaves

Denise using Mew-vellous Whiskers Moggie

Milnie using Time For Tea Girl
Come back for our midway post to see Erin using Fall Leaves