Good morning fellow crafters!! And welcome to the Open-Minded Crafting Fun Challenge Blog!!
We are always amazed at all of the fantastic creations!! Thank you to everyone who joined us and took on the challenge. We will announce the winners and the DT Favorites from
Challenge #21: Pumpkins / Jack o' Lanterns
, on
Saturday, November 1st, 2014
. Be sure to come back and celebrate the winners with us.
Challenge #22
is all about
Halloween or Dressing Up
We will be thrilled to see all of the different creations .. creepy, cute!! You name it, we want to see it. It doesn't have to be Halloween either... It can be dressing up too. We can't wait to see what you come up with!!
Please click on the Rules Tab at the Top to read up on the rules!
Deadline
:
The deadline for this challenge will be midnight on
Friday, November 7th, 2014.
Please make sure to link up before then.
Prize and DT Favorite Information
:
We will randomly draw the winner for each of the sponsors. These winners will be posted on
Saturday, November 15th, 2014
. We will also post the DT Favorites at the same time.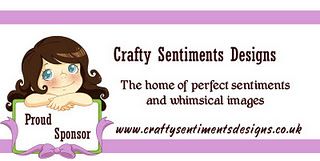 Crafty Sentiments Designs
Prize: 3 Images
We are a small family run online company that offers crafters fun and whimsical unmounted rubber stamps, digital stamps as well as cuttin dies, all from our very own exclusive range. Perfect for your cards and scrapbooks. Our stamps are made from deeply etched grey rubber, and our dies are made from good quality metal. We also stock essential craft products for your scrapbook and card making needs.

Adele using Annabel - The Witch

Kathy using Harriet's Witchy Ride
Come back for our midway post to see Cass using Annabel - The Witch

Flat Friends
Prize: 4 Images
Flat Friends artist is Emma! And Emma is based out of the UK. She creates all of the wonderful art you see at Flat Friends Boutique! You can find Flat Friends Boutique at her Etsy Store, on her very own Challenge Blog and also at Polkadoodles! Her Challenge Blog has a new challenge every month starting on the 1st! You can have fun joining in there as well!! Be sure to go see what fun creations Emma has for all of us!! Thanks so much for sponsoring with us!!

Carol using The Happy Couple

Hanne using Lil' Red

Jacqui using Deer Girl

Joanna using Deer Girl

Julie using Lil' Red

Melanie using Yellow Brick Road
Come back for our midway post to see Susan using Deer Girl and Vicky using Angel

Scrapper's Delights
Prize: 3 Images
My name is Janice (AKA Scrapper's Delights) I'm 39 years old and live in the UK. I discovered the digital scrap booking world November 2008 & I started to Design in February 2009. As far bask as I can remember my mum always made a card and cake for our Birthday, which always meant more than any bought one....and yes I still get a made card lol. The main thing I love about digital images is that there are no rubber marks .... and believe me there would be a few lol. As a child I have always been very creative with an active imagination. I get my inspiration from the child in me, the little girl who always dreamt of fairies and far away magical lands ... Filled with rainbows and unicorns. My digital creations allow me to bring them to life for everyone to enjoy.

Cindy using Sabrina Witch

Sammibug using Vampire Witch
Come back for our midway post to see Erin using Vampire Witch and Maureen using Phantom Dracula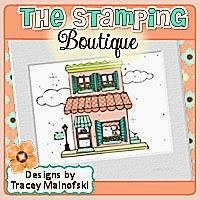 The Stamping Boutique
Prize: 4 Images
We at TSB are very proud to offer original digital images and artwork to you. Thank you for giving us a few minutes of your valuable time to look over the store at The Stamping Boutique. Good luck in the challenge and we hope to see you over at our TSB Community network. Tracey's art is just wonderful and we think you will agree! She has a very unique line of stamps .. Laundry Line! You have to go over and take a look.. we just love them! Her art is wonderful and fun and you will have no problem finding some great art to create your next crafting items with!! Thank you Tracey for sponsoring us next year! We really appreciate your time and generosity!! Thank you!!

Denise using Halloween Journal

Milnie using Witches Laundry Line
Come back for our midway post to see Pam using Witches Laundry Line